EASY LOADING PACKING MACHINE RAP 45 – POLAR AXIS ROBOT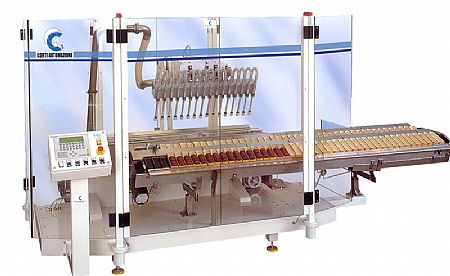 RAP 45 is a robot with interpolated axis. This robot is particularly suited for the handling requipments of the food industry products, such as: jars, potsm, tins, ice-cream cups, bags, flowpacks, frozen products etc. or products of other different kinf.
According to the type of product, the handling unit will be purposely designed in order to suit one's specific requirements.
This handling unit can be provided with holdfasts, mechanical pliers or vacumm bells for picking and placing the products. In case the machine must handle articles of different shape and size, custom solutions will be ralized in order to allow quick replacements or adjustements of the handling so that the format change time can be reduced to the minimum (1-2 minutes)
RAP 45 is a robot with two axis, controlled by brushless motors. The handling unit can be provided with a third axis to obtain rotation, inclination and compaction of the handled items.
The type of the engines used and the strong mechanical structure of the robot grant optimal perfomrance and are conceived in order to require minimal maintenance only.
The machine is built in compliance with the safety measures required by the CEE norms.

TECHNICAL SPECIFICATIONS
N° OF AXIS
2 – 3
AXIS X STROKE
mm 850
AXIS Y STROKE
mm 700
n° CYCLES PER MINUTE
40
CAPACITY
Kg 40
REPEATIBILITY
mm ± 0,1
WEIGHT OF ISOLA
Kg 1800
DIMENSIONS OF ISOLA
Length mm 2800
Width mm 2100
Height mm 2100
FEEDING
400v. 50Hz 3 FASI
POWER
KW 8